Dataiku Diversity, Equity, and Inclusion (DEI) Report 2022
Dataiku is committed to diversity, equity, and inclusion.
Building an AI platform that benefits everyone starts with diversity, equity, and inclusion (DEI). To achieve our intent, from February 2021 to January 2022 we aimed to improve representation across key areas and grow our Employee Resource Groups (ERGs).

Dataiku Representation Overview
Dataiku's representation among underrepresented communities has increased. From the previous DEI report, our representation of women was at 36% and our goal for women in people management was 30%. As of January 2022, we have increased our representation of women by seven percentage points and we surpassed our commitment for women in people management with an increase of four percentage points since 2019**.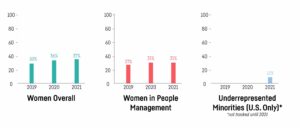 Zooming into 2021
ERGs serve as communities of individuals from shared backgrounds that foster inclusivity by allowing Dataikers to build relationships with one another and cultivate a sense of belonging. To that end, our Dataikers built two more ERGs in 2021 — one focused on people with visible and invisible disabilities (DatAble) and one focused on multicultural identities (Convergence).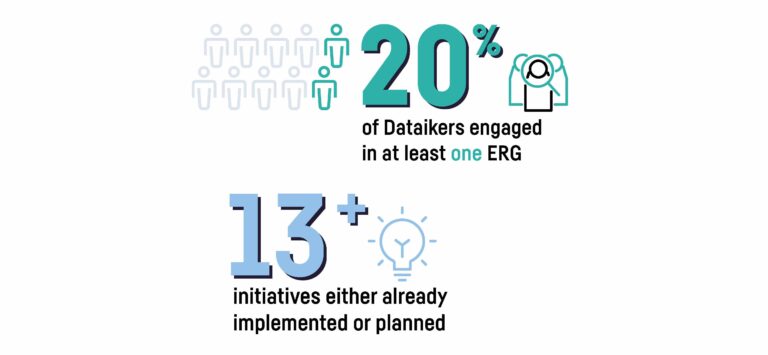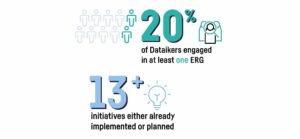 French Gender Equality Index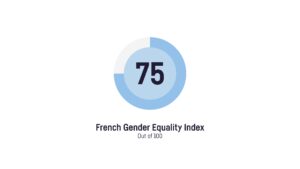 Complying with local regulations, Dataiku SAS (France) publishes its gender equality index. Scoring on a total of 100 points, this index allows companies to assess compensation equality between men and women. It is calculated on the basis of five criteria: pay gap, pay raise (outside of promotion) rate, promotion rate, maternity leave pay increase, and number of underrepresented gender in high-earners
2022 Priorities
Continue to generate scholarships that support students and increase the representation of women in data science.
Grow diversity and representation in tech by formalizing a partnership with Women in Data Science to further support the professional development of women within Dataiku.
Launch an anonymous reporting platform to ensure that Dataikers have a safe, secure resource to report any cases of non-discrimination and anti-harassment.
Finalize the creation of a new ERG to foster a community and sense of belonging for our Dataikers within the black community, and advocates.
Building the Future
In 2020, we set 2024 goals as a part of our efforts to have a long-term commitment to DEI**. We are still committed to increasing the representation of women at Dataiku. Effective February 2022, we achieved our original goal of 30% for women in people management. As a result, we have readjusted our 2024 goal to 32%.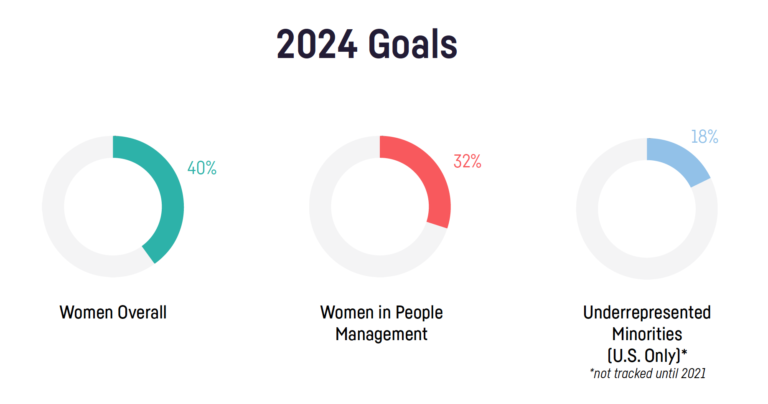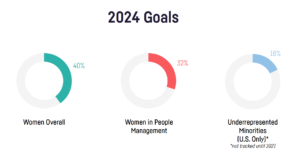 Additionally, we will continue to build out the function of DEI at Dataiku by embedding it into the following processes and systems, so that our impact is company-wide. We will:
Scale-out an inclusive recruiting strategy that focuses on mitigating bias, create an inclusive talent brand that showcases our DEI activities, and expand outreach to underrepresented communities.
Support the creation of supplier diversity guidelines to ensure we partner with businesses from underrepresented communities.
Enhance the leave benefits and resources that Dataikers have access to in order to create an inclusive environment for parents, caregivers, and those in the adoption process.
Dataiku will publish a continuation of its DEI efforts and its next step is to deliver a full DEI strategy that supports inclusion and belonging across all its regions.
*Underrepresented minorities encompass employees in the U.S. who are American Indian or Alaska Native (not Hispanic or Latino), Black or African American (not Hispanic or Latino), and Hispanic or Latino (USA). We solely measure this intersection of diversity within the U.S.
**We migrated our HRIS data from BambooHR to Workday in 2022. For that reason, we had to consolidate and combine categories in our data infrastructure, giving us an aggregate measure. It is a goal in the future to disaggregate these figures.