Visualize and
rerun workflows
Custom automation
scenarios
Monitor processing
and data
Visualize and
rerun workflows
Custom automation
scenarios
Monitor processing
and data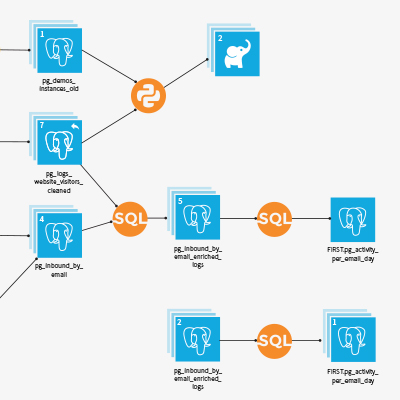 Visualize and re-run Workflows
Visualize and access all the steps of your data project to easily iterate on each manipulation at any moment.
Re-run your workflow with a smart reconstruction engine that limits computations to only necessary datasets.
Recompute only the parts of the datasets that are not up-to-date thanks to fine-grained partitioning (for example: only recompute the days for which data was not recomputed since the last update to the processing code).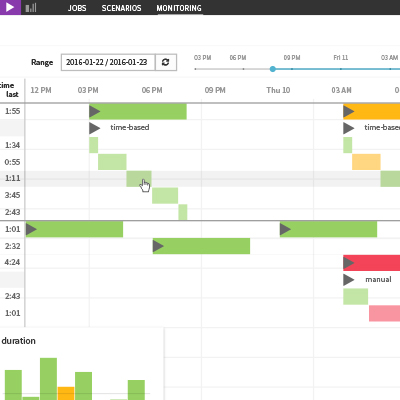 Automation Scenarios
Built-in orchestration tool with task management, advanced triggering policies, and notifications.
Implement automation scenarios either directly within the interface or using DSS Python scenario API.
Easily integrate with an external orchestrator thanks to the DSS REST API.
Automatically start your workflow when data changes or based on customizable conditions.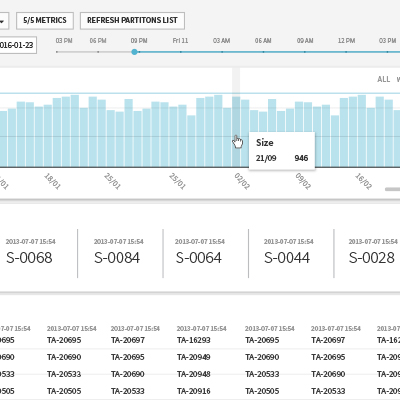 Monitor processing and data
Dataiku DSS' dashboard monitoring helps you rest assured that your deployment runs smoothly.
Implement automatic data validation policies - critical data or model metrics can be checked at each run.
Track and visualize your models' drift over time.