Dataiku DSS only runs on Linux servers for production usage. Support of Mac OS X is available for experimentation, evaluation purpose and playing with Kaggle datasets. Dataiku does not provide any version of DSS for Microsoft Windows. However, you have the option to virtualize a Linux system on Windows and install DSS on it.
We do not recommend that you use Docker for running DSS on Windows. We now provide a simple way to run DSS on Windows using Virtualbox, which does not require any complex manipulation.
This page is provided for information purposes, and we will not be able to provide support for it.
In this how-to, you will see how to install DSS on a Windows computer with Docker. Docker is an open-source project that automates the deployment of applications inside software containers, by providing an additional layer of abstraction and automation of operating-system-level virtualization on Linux, Mac OS and Windows (read more on Wikipedia).
Requirements
Docker provides an easy installation for Windows with the Docker Toolbox application. It installs VirtualBox Virtual Machine (VM), Docker itself, and the Docker Toolbox management tool for you.
Your machine must be running Windows 7.1, 8/8.1 or 10.
Your Windows system must support Hardware Virtualization Technology and virtualization must be enabled.
Also, you should have at least 4GB of RAM available (8GB is better).
Download and install the Docker Toolbox Docker Toolbox application. The process shouldn't be too difficult.
When it completes, the installer should report that it was successful.
The installer will place three icons on your desktop:
Orable VM VirtualBox: this is required for the virtualization
Kitematic: it is a visual management tool for Docker
Docker CLI: to control Docker with command lines
Running DSS easily with Kitematic
Open the application Kitematic. At first start, it will set up the Docker minimal image. Just wait for the installation to complete. If the system displays a User Account Control prompt to allow VirtualBox to make changes to your computer, choose Yes.
Then, you will be asked to login with your Docker account. If you don't have one, you can skip it.
Search for "dataiku dss" image. Click on Create.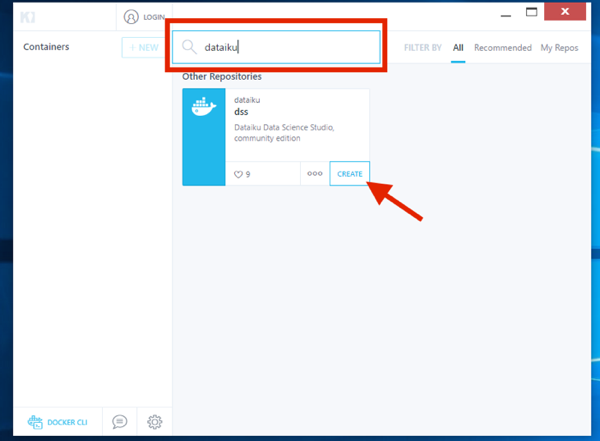 Wait for the image to be downloaded.
When ready, the image will automatically start. Wait for a minute so that DSS starts.
Once started, you need to look for the IP address and the port that you will use to connect to DSS in your browser. This depends on your installation. Check into the IP and ports settings of your image and note the access URL corresponding to the docker image port 10000.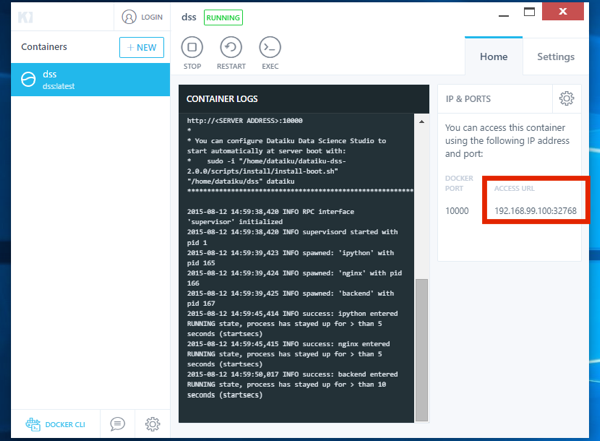 Finally, open your browser (Firefox or Chrome, Internet Explorer is not supported) and open the URL (in our case, the URL is 192.168.99.100:32768). That's it! You now have DSS running on your computer.
Remember to click on STOP in Kitematic before quitting in order to save your work.
Advanced usage with command lines
Instead of using Kitematic, you can start DSS with Docker CLI.
Check that the VM is up with docker-machine ls.
Then, install and start DSS image with the following command:
docker run -p 10000:10000 -d dataiku/dss

This command configures DSS to use port 10000.
Check that the image is running with docker ps.
Finally, open the following URL in your browser (Firefox or Chrome): http://192.168.99.100:10000. Note that it can take few minutes for DSS to start.
Optionally, you can get a bash access to the container running the following command. You need to get the container name first with the command docker ps.
docker exec -it <containerName> bash

Additional resources
Our public DSS image for Docker is available at this URL: https://hub.docker.com/r/dataiku/dss/
To lean more Docker, you can read these resources:
If you have any question, ask the Dataiku community.